Mounting a 1974 Lamborghini Countach on the wall
Some luxury homeowners display Rembrandt or Picasso as wall decor. One of our clients prefers his jet-black 1974 Lamborghini Countach mounted above his glass staircase.
After the car had reached the end of the road, he decided to mount it as if it were a museum piece. "I got tired of having it towed," he said. However, maneuvering a 1,000-pound vehicle through a skylight requires some ingenuity.
It was hung from a steel-reinforced wall with loops of half-inch-thick steel cable. The car was also designed to be able to plug into the home's electrical system, so its lights could be switched on for display.
After the engine was removed, it was artfully transformed into a 200-mph coffee table for the living room. This home is truly one-of-a-kind.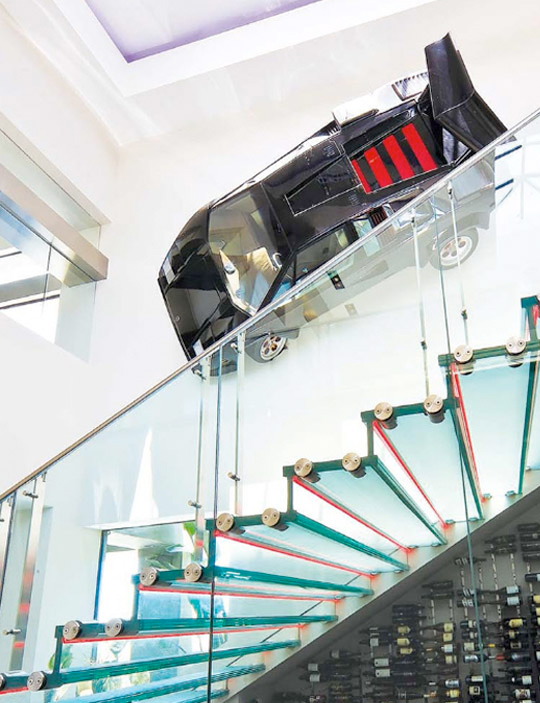 A cliffside dream with spectacular views
Designed by the late modernist architect Mark Singer and built by RDM, this multi-story beach home offers panoramic views of the Pacific. The 2,000 sq covered patio includes an infinity edge pool that appears to merge with the ocean.
The exterior is made primarily of exposed concrete to which the RDM team added an aesthetic texture that created a wood grain pattern on its surface. The natural hues of Camaru wood ceilings and Italian teak wood windows and doors add warmth and a welcoming atmosphere.
"We wanted a place that was beautiful to the eye and senses, but at the same time was comfortable and functional" — Homeowner
The home has a master suite, three bedrooms, and a guest suite. The lower level includes a gym, home office, sitting areas and an indoor family room. An exterior stairway provides guests with a direct path to the patio and pool.
Combining artistry with vision
RDM was contracted to build a custom luxury home in Orange County, California. As is often the case, husband and wife had two differing visions for their dream home. While he wanted televisions in the living room, she preferred a more sophisticated setting for formal entertainment. RDM scoured the market for the finest materials and best technology to solve this problem. Unsatisfied with any existing solution, RDM designed their own entertainment solution that combined artistry with function. RDM worked with their preferred interior designer and custom cabinet company to design an original system to meet the clients' needs, and:
Installed recessed television monitors which could be hidden behind the couple's own piece of art
Mounted a perfectly-sized oil canvas over the entertainment center
Created a system in which the canvas lowers over the screen on demand to create a more refined atmosphere
Both husband and wife got the living room they desired and are delighted with their custom dream home.
On the water. Off the grid
A 'floating staircase' anchored by a vertical steel beam embedded deep in the foundation and a pneumatic elevator are just two of the many exceptional design elements you'll find in this Soft Contemporary home built by RDM.
Porcelain tile floors extend to the outdoor patio where gaps between each tile drain away excess water or moisture from the adjacent harbor.
A custom built ceiling-to-floor wine wall displays the homeowners extensive wine collection without taking up additional space. RDM installed precise climate control and backlighting for a functional and visually stunning backdrop to the dining area.
Forty solar panels power the entire home, yacht and Tesla - combining renewable energy sources with modern style while operating entirely off the grid!